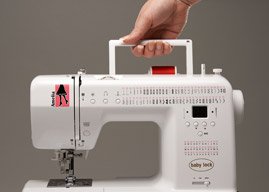 Lightweight
At 11.2 pounds, Amelia is the perfect weight and size for light and easy travel. Take it to classes, sewing retreats, vacations, and more!
Large Stitch Selection
Selection is made simple with 7 direct select stitch buttons, a menu and LCD screen.
Drop-in Bobbin
Load and replace your bobbins quickly and easily.
Push Button Features
Easily program the needle up or down, reinforce any stitch with the reverse sewing button, and sew at low speed or without a foot control using the start/stop button.
Built-in Needle Threader
Amelia includes easy-to-follow, numbered guides so you can thread your needle with a few simple motions.
Free-Arm Sewing
Convenient for sewing in those small hard-to-reach areas like sleeves and pant hems.
Multiple Accessories
There are many accessories to help you get the most out of Amelia.