Overview
BERNINA 215: The easy route to sewing success
Customized "skins": Your own personal BERNINA 215
Who says a sewing machine always has to look the same? For the BERNINA 215, there's a very special option available: with BERNINA DesignSkins®, you can turn your 215 into an unmistakeable, entirely individual one-off. To do this, you can either select your favorite design from the various designs available at BERNINA DesignSkins® , or use your own photos or graphics to lend an individual look to your BERNINA 215. Your design is printed on an easy-to-apply vinyl skin, enabling you to style your BERNINA 215 according to your wishes and preferences –it doesn't get any more individual than that!
BERNINA 215 with built-in needle threader
Right from the start, the BERNINA 215 lets you enjoy the optimum convenience of a Swiss precision sewing machine that's revealed particularly in the details: for instance, its built-in needle threader which lets you rethread the machine when changing spools in the blink of an eye. This saves time and is a genuine help. The BERNINA 215 proves that even state-of-the-art sewing-machine technology needn't be complicated, and leaves nothing to be desired as an easy-to-operate sewing machine. Ideal for beginners or occasional sewers!
Needle stop up/down for simple, safe sewing
At the touch of a button, the BERNINA 215 lets you set your needle to stop up or down in the fabric. What's more, the sewing speed of the 215 can be reduced to half-tempo. You always maintain control over the sewing speed and the position of the needle when the sewing process is stopped. Since sewing speed can be adjusted to your personal abilities, even beginners can expect high-quality results.
Your desired stitch at the touch of a button
The BERNINA 215 offers you a range of the most commonly used practical stitches which are simply set at the touch of a button. Large, clear icons next to the direct-selection keys display the stitch in question, so that you can change the stitch at the press of a button. Thanks to this simple direct stitch selection, the BERNINA 215 is a uniquely user-friendly machine – a combination of versatility and simple handling that will give you years of sewing enjoyment. All the more so, as the BERNINA 215 is a cinch to upgrade with additional special accessories, allowing its potential applications to grow along with your own skills and expectations.
Create your own B 215 skin!
BERNINA DesignSkins® lets your B 215 look as you wish. You can either select your favorite design from the given designs at BERNINA DesignSkins® or you can upload your own photos and graphics to make your B 215 unique.
Accessories Included
Reverse pattern foot # 1
Reverse pattern foot # 1 is the ideal presser foot for sewing forward and reverse-feed utility and decorative stitches.
BERNINA metal bobbins
Four different versions of the BERNINA bobbin are available. The metal bobbins can be used on all BERNINA sewing machines apart from the 7 Series and 8 Series.
Overlock foot # 2
Overlock foot # 2 lets you neaten seams easily and sew high-quality hems, waistbands and overlock seams on knit fabrics.
Buttonhole foot # 3
Buttonhole foot # 3 is the natural choice for easy sewing of buttonholes with and without cording, and is also ideal for gathering with cord.
The Snap-on shank – practical and quick
The Snap-on shank enables you to change snap-on soles in no time flat. Many different snap-on soles fit on this shank.
Zipper foot # 4
Thanks to its narrow, centrally positioned toe, Zipper foot # 4 can stitch very close to the zipper coils, allowing it to sew the zipper on neatly.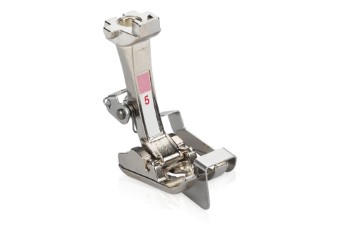 Blindstitch foot # 5
Blindstitch foot # 5 is suitable for sewing blind hems on all fabrics. When this foot is used, you can hardly see the stitching from the front.
Free-arm slide-on table for ultimate sewing comfort
The Slide-on free-arm table is a practical table-extension mechanism for free-arm sewing projects which won't affect free-arm function when in place.