Skip Navigation
Website Accessibility
Bernina 880 Plus
Bernina 880 Plus
The Ultimate in Sewing, Embroidery and Quilting
Exciting new embroidery features
Huge space for sewing & embroidery
Create your own stitch patterns
Quiet, fast & precise
Sew & embroider longer
Download
(opens in a new tab)
Overview
Beautiful embroidery every time
Place your design exactly where you want
Clean embroidery results on the top
Intuitive & very easy to use
The B 880 PLUS is enriched with exciting embroidery features like Pinpoint Placement, Enhanced Editing Functions, Total Embroidery Stitch Control and much more. For further information, see the details.
Enjoy maximum space
Handle large projects with ease
Comfortably create big quilts
Designed for the Jumbo Hoop
The extended freearm of the B 880 PLUS offers 12 inches of space to the right of the needle and five inches in height. Therefore you will enjoy a huge sewing and embroidery area.
Automatic features are yours!
Enjoy fully automatic threading
Threads are cut at the end of a seam
No manual lifting of the presser foot
The feed dog raises and lowers automatically for free-motion stitching when using the BERNINA Stitch Regulator, and for embroidery. The presser foot lowers at the start of a seam and lifts again at the end.
A machine that is fast & quiet
Sew & embroider longer at a stretch
Easy access to the Jumbo bobbin
Fastest sewing & embroidering
Sews quietly
The Jumbo Bobbin offers 70 % more thread capacity than standard bobbins and pops in and out with the touch of a finger. Sewing speeds up to 1,200 and embroidery speeds up to 1,000 stitches per minute.
Love the BERNINA innovations
Alterations of stitch details are remembered
Handle special materials with ease
Stitches are kept consistent to achieve finest results
Total Stitch Control, the BERNINA Dual Feed and the BERNINA Stitch Regulator are features BERNINA developed to guarantee precise stitch quality and results.
Find the perfect stitch for you
Select the perfect stitch for your project
Choose your favorite design
Personalize your project with different font styles
The integrated Stitch Library offers over 1,764 stitches, is clearly categorized and stitches are easily retrieved. Find 12 font styles and 460 high-quality embroidery designs.
Design your personal stitch
Design & create your own stitches
Simply draw your ideas directly on the screen
Convert the design into a stitch pattern
Edit stitches and create your own. The creative possibilities are endless and you can continuously expand your stitch library.
Shape your imagination
Duplicate embroidery designs with one click
Arrange the designs in your desired formation
Any formation is possible
The integrated Shape Designer offers you functions like duplicating and arranging designs in a circle, square or heart.
Choose your favorite color
Color your design easily
Select your personal color scheme
Embroider your project in beautiful colors
With the Color Wheel, designs can be changed easily and coordinated to your favorite color scheme before you start embroidering.
Embroidery lovers will adore the B 880 PLUS thanks to:
Pinpoint Placement
Place your design on the fabric exactly where you want it.
No need to use the template anymore.
Easy to use: Simply select two points and match them with the markings on the hooped fabric.
Perfect results quickly and precisely.
Enhanced Editing
Undo & Redo: Simply undo or redo steps while editing or combining designs to return to your initial position.
Group & Ungroup: Combine designs to edit all at one time with group. Break apart designs to edit individually with ungroup.
Rearrange: ?Customize the design layer stitch-out sequence. Use rearrange in combination with the group function.
Total Stitch Control
Thread Away Mode: Pulls the threads down to the underside for clean embroidery results on the top. Program jump stitch length to manage thread cuts. Subject to design properties. No more manual trimming on the top side needed.
Invisible & Smart Secure: Securing stitches become invisible as the tie-on/off stitches are sewn in stitch direction. Smart secure adds tie-on/off stitches to a design, if none are preset.
Bonus Embroidery Designs & Alphabets
Dozens of new embroidery designs, including: monograms with frames, in-the-hoop projects and special technique designs.
Includes nine newly digitized embroidery alphabets such as Curly, Happy Times, Deco and Rounded.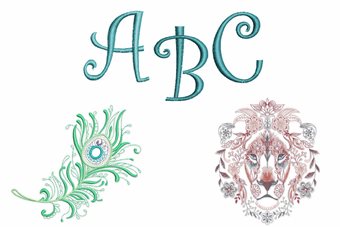 Intuitive & very easy to use
Embroidery Consultant: For each embroidery technique the consultant helps you to choose the correct foot, needle, thread and stabilizer according to your fabric to achieve the best results.
Toggle between mm & inches: The embroidery design size and the hoop dimensions can be shown in mm or inches.
Reads most popular file formats: EXP, DST, PES, JEF, PCS, SEW, XXX.
Optional Midi Hoop
Enjoy embroidering with the BERNINA Midi Hoop, guaranteeing quick and perfect embroidery performance.
Very easy to hoop and unhoop
Get full tension on your fabric
Waste less stabilizer
Ergonomic twist-lock mechanism
Size: 10.5 x 6.5 inch, 265 x 165 mm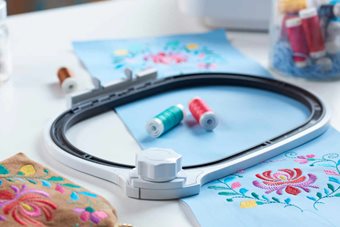 Accessories Included
BERNINA Stitch Regulator (BSR)
The BERNINA Stitch Regulator (BSR) adapts precisely to your current sewing speed to produce absolutely consistent stitching.
Reverse pattern foot # 1C
Reverse pattern foot # 1C is the ideal presser foot for sewing forward and reverse-feed utility and decorative stitches.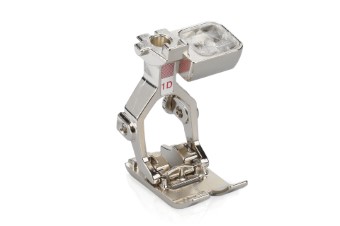 Reverse pattern foot # 1D
Reverse pattern foot # 1D is the ideal presser foot for sewing forward and reverse-feed utility and decorative stitches.
Overlock foot # 2A
Overlock foot # 2A lets you neaten seams easily and sew high-quality hems, waistbands and overlock seams on knit fabrics.
Buttonhole foot with slide # 3A
Depending on the model, Buttonhole foot with slide # 3A determines the desired buttonhole length for identical buttonholes either via a sensor or manually.
Buttonhole foot # 3C
Buttonhole foot # 3C is the natural choice for easy sewing of buttonholes with and without cording, and is also ideal for gathering with cord.
Zipper foot # 4D
Thanks to its narrow, centrally positioned toe, Zipper foot # 4D can stitch very close to the zipper coils, allowing it to sew the zipper on neatly.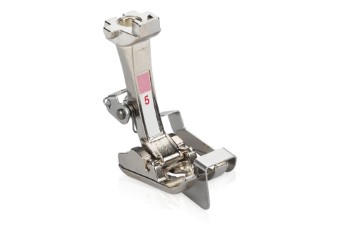 Blindstitch foot # 5
Blindstitch foot # 5 is suitable for sewing blind hems on all fabrics. When this foot is used, you can hardly see the stitching from the front.
Button-sew-on foot # 18
Button-sew-on foot # 18 is the perfect tool for easy sewing of buttons, snap fasteners, eyelets and decorations.
Open embroidery foot # 20C
Open embroidery foot # 20 / 20C / 20D is ideal for embroidering with your sewing machine. The indentation in the sole of the presser foot allows it to glide smoothly over dense stitches.
Drop-shaped embroidery foot # 26
Thanks to its special tear-drop shape, Drop-shaped embroidery foot # 26 allows you to embroider with the embroidery module and to darn delicate fabrics.
Sideways motion foot # 40C
Sideways motion foot # 40C enables multi-directional sewing, and allows you to sew out large sideways motion stitch patterns.
Small embroidery hoop
The Small embroidery hoop (for normal use / free-arm embroidery) is a whiz at embroidering tubular items such as sleeves or pant legs.
Medium hoop – for medium-sized designs
The Medium hoop is a useful tool for the accurate embroidering of medium-sized projects with the BERNINA embroidery machine.
Large oval hoop
The Large oval hoop is suitable for both design combinations and extensive embroidery designs. The template makes quick work of accurately positioning the project in the hoop.
Free-arm slide-on table for more sewing space
The BERNINA Free-arm slide-on table offers greater comfort thanks to an increased sewing area, without affecting free-arm function when sewing.
Free-Hand System (FHS) / Presser foot lifter
The Free-Hand System (FHS) / Presser foot lifter lets you raise the presser foot and lower the feed dog with your knee. Recommended particularly when working with delicate fabrics.