The SewMate provides everything you need for the most efficient sewing area no matter how big or small. This gorgeous studio perfectly complements your home as well as the capabilities of your machine. Enjoy spacious shelves, fabric and notions palettes and three soft-closing drawers.


Three Soft-Closing Drawers
Spacious soft-closing drawers are designed to accommodate your supplies and accessories within easy reach.

XL Lift Included
The powerful XL Lift comes with a standard wireless remote. A direct drive rack and pinion system smoothly raises and lowers large, heavy top-of-the-line machines. Sew at high speeds without platform vibration.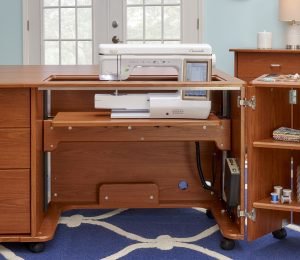 Bi-Fold Doors
When not attaching the Notions and Fabric palettes to your bi-fold doors they can fold flat to save space.

Base Model
This model is shown in Asian Golden Teak with optional machine insert, door shelves, and outback leaf extension.