Orange Location





Pre-Owned JUKI MF-7523 3-NEEDLE, HIGH-SPEED FLATBED TOP AND BOTTOM COVERSTITCH INDUSTRIAL MACHINE




Top of the line Juki Industrial sewing machines with premium options. Built for Medium to Heavy Weight Work.
Industrial build with the convenience of your computerized home machine.
Pricing Includes:
-Free Set Up and Delivery in Connecticut (For other States Call for Eligibility)
-2 Year Warranty
-Deluxe K Frame Table to Provide more Stability than the Standard Table.
-Fully Adjustable Speed Control Servo Motor
-Self Lubricating Oil Pump with Fully Sealed Oil Pan


INCLUDES TABLE AND CLUTCH MOTOR
The machine performs sewing that matches a broader range of sewing items.
The machine can be used for the hemming process of the sleeves and bottoms of T-shirts and for the covering process for sportswear and knitwear. It is not a specific-purpose model, but a basic one which can be used for a broader range of processes independently.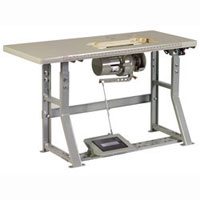 This Package includes a Fully Assembled Table and a Clutch Motor.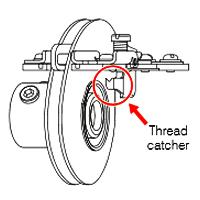 No Looper thread Twining
The rotating part of the looper thread cam shaft is covered to prevent the looper thread from twining around the looper thread cam shaft. A V-shaped thread catcher has been installed on the looper thread cam bracket to easily clamp the looper thread, which is likely to twine around the cam.
Needle Bar Stroke Conversion Mechanism
By changing over the needle bar stroke, penetrating force of the needle as well as thread tension to fit heavy-weight materials (fleece, blankets) can be obtained. The needle bar stroke can be changed by adjusting the eccentric pin. (Changing of parts is not required. Factory-set at the time of delivery: 31mm; for sewing heavy-weight materials: 33mm)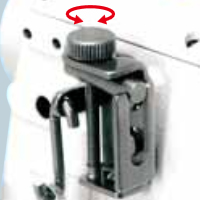 Micro-Lifter Mechanism
Elastic material or delicate material can be sewn with the presser foot kept slightly raised. This effectively helps reduce the degree of slippage, warpage and damage of the material.
Stitch Type Change Over
It is now possible to change over the stitch type, such as elastic soft-seams for inner wear and high-quality well-tensed seams for outer wear. The stitch type can be changed over (soft-seams/well-tensed seams) simply by changing the thread path.
Differential-feed Micro-adjustment Mechanism
It is possible to finely adjust the differential feed amount to a best-suited value for the material to be used. The differential feed ratio is constant even if the stitch length is changed
Feed Dog Inclination Adjustment
The feed dog inclination can be externally adjusted with ease. This adjustment mechanism effectively helps improve the material holding ability of the feed dog and prevent uneven material feed and puckering.
MACHINE SPECIFICATIONS
| | |
| --- | --- |
| Stitch Type | 3-Needle |
| Needle | UY128GAS #9S~#14S (standard #10S) |
| Lift of the Presser Foot | 5mm (with top and bottom covering stitch), 8mm (with bottom covering stitch) |
| Lubrication | Automatic |
| Lubricating oil | JUKI Machine Oil No.18 (equivalent to ISO VG18) |
| Weight of the machine head | 46kg |
MOTOR OPTIONS
With so many options available for motors when we talk about replacing or buying a motor for our industrial sewing machine, there is one important point to keep always in mind "The Speed". Regardless of brand or price, motors come in two different configurations:
1. Fixed-Speed Clutch Motor
2. Adjustable-Speed Servo Motor
Clutch motors operate at a fixed speed, typically between 1725 - 3450 rpm, depending on the type of machine. Servo Motors on the other hand are speed adjustable. The two major advantages of the Servo Motor are that you can control the speed of the motor and that the motor is completely silent when the pedal is not engaged.
Some other advantages of the Servo Motor include:
They consume up to 90% less energy than clutch motors
1/3 lighter than clutch motors
Reverse motor rotation with the flick of a switch
Nothing to wear or adjust
Adjusted speed remains the same no matter how hard the pedal is pressed
Most of our customers find that the sewing machine is much easier to control with a Servo motor because of the speed control. This is especially helpful for beginner sewers but also for projects that simply don't require high speed stitching.
This machine package includes a fixed-speed clutch motor. Upgrade to an adjustable-speed servo motor for only $79. Simply choose the servo