Overview
BERNINA 570 QE –the all-rounder for sewing quilting and embroidery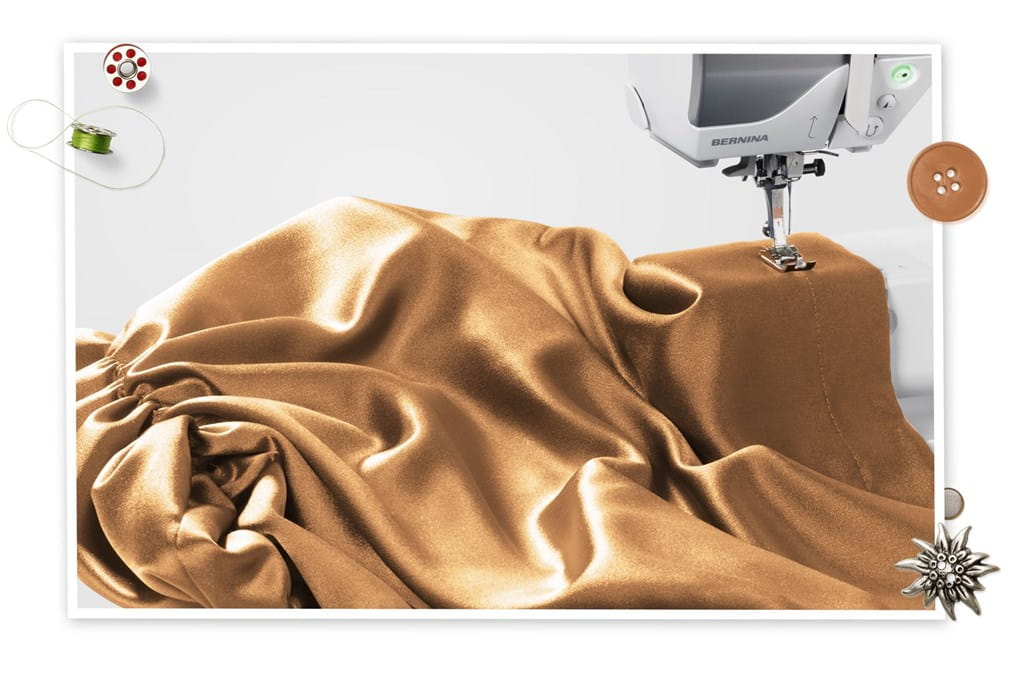 Exclusive! Total Stitch Control
The B 570 QE provides an exclusive level of stitch control. Whether altering the stitch length (up to 5 mm), width (up to 5.5 mm) or needle position (up to 11) or even creating custom combinations, you'll appreciate the convenience of a machine that remembers the stitch details for you.
The B 570 QE is a genuine all-rounder that can sew, quilt and embroider. The touchscreen makes changing from sewing to embroidery mode a breeze. There are 50 embroidery designs to choose from, and you can upload your own embroidery designs via a USB connection. The designs can be edited right on the touchscreen with the Rotate, Mirror, Rescale, and Color Change functions.
Built-in BERNINA Stitch Regulator (BSR)
A special highlight of the BERNINA 570 QE is the BERNINA Stitch Regulator (BSR) <>, which ensures highest precision when free-motion sewing. Even when the feed-dog is lowered and the fabric is being manually guided, the sophisticated BSR technology ensures stitches that are always of the exact same length, by recognizing and compensating for differences in sewing speed. This innovative BERNINA 570 QE function allows even inexperienced free-motion quilters to produce accurate and consistent stitch lengths for a precise stitch pattern – right from the get-go! Thanks to its BSR functionality, precise free-motion sewing with the BERNINA 570 QE is a relaxed affair – ideal for sewing and quilting at the highest level.
More Memory Options
Let your B 570 QE keep track of the details with multiple memory functions. It remembers the changes you make to the stitches as you use them in your sewing session. It will also remember your favorite stitch settings for each stitch when saved in the long-term memory. For creative applications, you can save up to 70 stitches in a combination
Extensive stitch library
The B 570 QE offers up to 642 utility and decorative stitches, including an automatic buttonhole. Stitches can be selected via the color touchscreen. The user-friendly interface of the B 570 QE allows you to navigate quickly and easily. The modern color touchscreen displays all your settings, and the Creative Consultant offers on-screen help and support.
Accessories Included
BERNINA Stitch Regulator (BSR)
The BERNINA Stitch Regulator (BSR) adapts precisely to your current sewing speed to produce absolutely consistent stitching.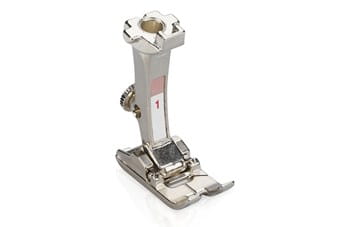 Reverse pattern foot # 1
Reverse pattern foot # 1 is the ideal presser foot for sewing forward and reverse-feed utility and decorative stitches.
BERNINA metal bobbins
Four different versions of the BERNINA bobbin are available. The metal bobbins can be used on all BERNINA sewing machines apart from the 7 Series and 8 Series.
Buttonhole foot with slide # 3A
Depending on the model, Buttonhole foot with slide # 3A determines the desired buttonhole length for identical buttonholes either via a sensor or manually.
Zipper foot # 4
Thanks to its narrow, centrally positioned toe, Zipper foot # 4 can stitch very close to the zipper coils, allowing it to sew the zipper on neatly.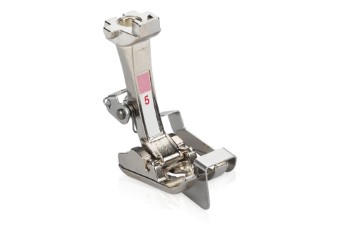 Blindstitch foot # 5
Blindstitch foot # 5 is suitable for sewing blind hems on all fabrics. When this foot is used, you can hardly see the stitching from the front.
Free-Hand System (FHS)/Presser foot lifter
The Free-Hand System (FHS)/ Presser foot lifter lets you raise the presser foot and lower the feed dogs with your knee. Recommended particularly for applique or any project requiring pivoting and getting bulky projects under the presser foot easily.
Free-arm slide-on table for ultimate sewing comfort
Extend your sewing surface with the Slide-on Table to support your large projects. Easily remove it when using only the free arm as desired, such as for sewing tubular projects.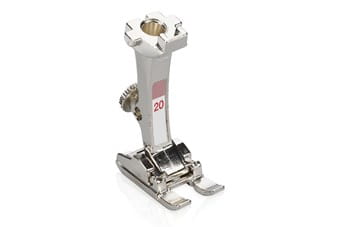 Open embroidery foot # 20
Open embroidery foot # 20 is ideal for decorative stitching with your sewing machine. The indentation in the sole of the presser foot allows it to glide smoothly over dense stitches.
Patchwork foot # 37
Patchwork foot # 37 features special markings and a straight stitch opening and is ideal for patchwork and precision sewing.